Illustrations done in 2015 for the classic fairy tale "
Thumbelina
" by H.C. Andersen.
Looking for a publisher !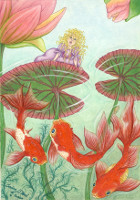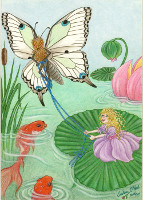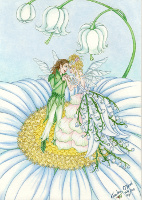 ---
Illustrations (made in 2005) for
"L'Etoile de Mélusine"
("Melusine's Star") by
Marie Zimmer
.
A beautiful story for children, treating with much poetry the difficult topic of Down's syndrome (trisomy). The story of Mélusine, "the little sister not like the others", seen through the eyes of little Kevin and his best friend Nina, two 7 year old children.
Looking for a publisher !

Chapter 1 : Le cadeau du Père Noël
(Santa's Gift)

Chapter 2 : Ma copine Nina
(My friend Nina)

Chapter 3 : Melusine
(Melusine)

Chapter 5 : La mauvaise étoile
(The Unlucky Star)

Chapitre 7 : Le vieux disque
(The Old Record)

Chapitre 8 : Le serment
(The Pact)